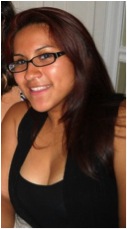 Name: Rocio de Jesus Hernandez

Line Initial: "V"

Pledged In: Spring 2010

Birthday: June 30th

Birth Place: Washington, D.C.

Hometown: Woodbridge, VA

Ethnicity: Hispanic/Latina

Concentration: B.A. in Mathematics

Graduation Date: May 2012


Favorite Quote: "Good judgment comes from experience and experience comes from bad judgment."

"Forgiveness is the economy of the heart... forgiveness saves the expense of anger, the cost of hatred, the waste of spirits."

"He that cannot forgive others breaks the bridge over which he must pass himself; for every man has need to be forgiven."