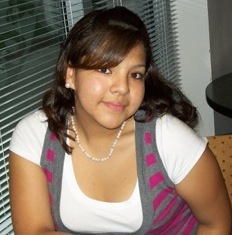 Name: Janice A. Rojas

Line Initial: "A"

Pledged In: Spring 2010

Birthday: August 29th

Birth Place: Washington, D.C.

Hometown: Arlington, VA

Ethnicity: Bolivian

Concentration: Social Work

Graduation Date: May 2013


Favorite Quote: "LTA doesn't make you... it enhances you."
Reason for Pledging: I first got interested in Lambda Theta Alpha through a sister that was my Mentor for the program Akoma Circle. Through that, we became friends and I created a bond with her. With time, I started to attend their events and meet more sisters. I created great bonds with these other sisters. I enjoyed spending time with them; they were so nice and welcoming. I proceeded to do some research on all of the Latin sororities at Mason and LTA immediately captured my attention. I became apart of the Interest Group and conducted socials and educationals, I enjoyed every aspect of being in the Interest Group. I thought that Lambda Theta Alpha was a great organization and I loved what it stood for especially its principles of Unity, Love and Respect.