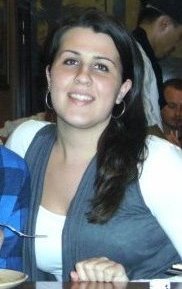 Name: Alyssa Curry

Line Initial: "O"

Pledged In: Spring 2010

Birthday: August 8th

Birth Place: Arlington, VA

Hometown: Chantilly, VA

Ethnicity: Italian and Irish

Concentration: Education

Graduation Date: 2012

Favorite Quote: "Laugh as much as you breathe and love as long as you live."
Reason for Pledging: The moment I became an interest I immediately felt a connection with the wonderful women I am now lucky enough to call my sisters. The principles of Unity, Love, and Respect mean a lot to me and I love how important it is in LTA. I also believe that academics are very important and LTA prides itself on being an Academic sorority. I absolutely love how LTA is Latin by tradition, not by definition, which is helping to empower every woman, and allows me to be a part of such a terrific organization.