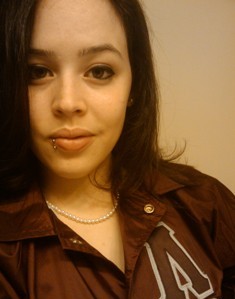 Name: Alana Rivera

Line Initial: "I"

Pledged In: Spring 2011

Birthday: March 20th

Birth Place: New York, NY

Hometown: Brooklyn, NY

Ethnicity: Nuyorican

Concentration: B.A. in Sociology

Graduation Date: May 2014


Favorite Quote: "Once a task has begun, never leave it until itís done. Be that task, great or small, do it well or not at all."
Reason for Pledging: I came to Mason without knowing anyone and the ladies of LTA welcomed me with open arms from the start. At the first social I went to, the ladies were organized and professional and have since always represented themselves very well. These ladies are classy leaders on campus and that was really something I wanted to be a part of; not just in school, but in my life and my career. I really feel LTA gave me the sisterhood I was looking for and helped me enhance my leadership skills for the future.