History of Lambda Theta Alpha
Lambda Theta Alpha Latin Sorority, Incorporated had its beginning at Kean College of New Jersey in December of 1975. It became incorporated as an Academic Sorority in March, 1979. In its 31 years of existence, there is an entity that has remained ever-present in Lambda Theta Alpha; our founding mothers. Catalysts for change, these 17 women came together by chance and stayed together by choice, forming the first Latin Sorority in the Nation. The founders of LTA are more than historical icons to whom we pay homage, they are distinguished within their professions and continue to assist their community on social, political and educational levels.
Their vision to establish a sisterhood based on Unity, Love and Respect; a vehicle for the education and empowerment of all women, was not only carried out, but is to this day carried on by a legion of sisters dedicated to our purpose and principles. Our founding mothers remain active still with the organization; participate in National, Area and Chapter events, proving time and again that sisterhood is indeed for life.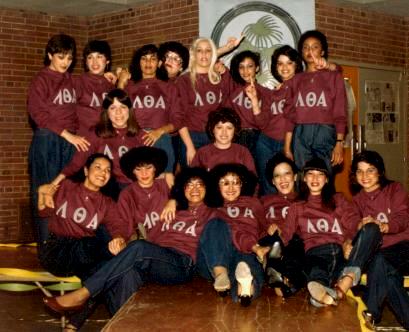 The 17 innovative women who set the foundation for the entire Latino Greek Movement by establishing the first Latin Sorority in the Nation are:
Ileana Almaguer
Cecilia Alvarez
Carmen Baez
Karen Capra
Doris Cruz
Arlene Fernandez
Eneida Figueroa
Maria Gautier
Teresa Gonzalez


Thomasa Gonzalez
Diana Ibarria
Lilian Marrero
Ofelia Oviedo
Linda Perez
Aurora "Dory" Rodriguez
Maria del Carmen Vega
Marilyn Wyatt

Lambda Theta Alpha presently has over 80 undergraduate chapters, graduate chapters, and alumnae chapters throughout New Jersey, New York, Connecticut, Pennsylvania, Maryland, Texas, Michigan, Illinois, Puerto Rico, Florida, Virginia, Tennessee, New Mexico, Arizona, North Carolina, Idaho, Washington, Georgia, Wisconsin, and California, which excel in their respective communities.
Lambda Theta Alpha is a fully insured organization, in which every chapter has coverage. The sorority has a strong National Executive Board that governs the entire organization with help from the area boards. It serves as an umbrella system in helping, supporting and overseeing all chapters and their members. Lambda Theta Alpha also has an active alumni association, which is proof to our life long commitment to sisterhood.
Lambda Theta Alpha's main goals as an Academic Sorority are to achieve scholarly excellence, support and maintain minority unity and promote cultural and political awareness. We also believe that the success of our respective communities depends on education dispersed through community service and philanthropy. Some of our accomplishments include working with Equal Opportunity Fund Program students, AIDS Walk New York and Washington, D.C., ASPIRA recruitment programs, the National Committee to Prevent Child Abuse, March of Dimes, Muscular Dystrophy Association, visiting children's hospitals, and various soup kitchens, shelters and literacy programs to name a few. Our national philanthropy is the Lambda Theta Alpha Latin Sorority inc. outreach program F.U.T.U.R.O (Focused Urban Teens United and ready for opportunity).
Lambda Theta Alpha is not an exclusive group of women. It has sisters of various nationalities and races including Caribbean, African-American, European, Central and Latin American, Asian, Middle Eastern and many more. Although Lambda Theta Alpha was founded as a Latin Sorority, it believes in serving all communities in need. It is an organization that fights for the empowerment of all women, regardless of their race, color, creed or religion.
Lambda Theta Alpha Latin Sorority, Incorporated is proud to state that it is the first and largest recognized Latin Sorority in the Nation.